THE CONSTELLATION WAY
In order for us to achieve our high expectations that ConstellationCenter will be one of the world's finest performing arts centers, we have adopted a non-traditional, research-based approach to everything we do.  Building something as extraordinary as ConstellationCenter necessitates an equally unique design process.  Our approach is to consider the needs and desires of the audience and performer first.  This project has questioned traditional norms and reexamined every design criteria. 
The result, we believe, has led to a design that surpasses the best current precedents for most types of music performance, film exhibition, opera, and theater.  This process seeks to design the halls, each with its own acoustic and structural components, in advance of determining the exterior façades.  In other words, we have worked from the inside out. 
Over the centuries, many types of building structures have been used for performance.  Most of these designs bear little resemblance to today's performance spaces.  The "ConstellationCenter Way" is to recall these old designs in order to leaven the creative process, to help break the mold of current paradigms.  In addition, these historical precedents often hold the key to the rediscovery of lost art, such as in creating acoustic treasures and generating room systems that strongly promote social interchange.  In this way, ConstellationCenter relies on historical precedents to inform our design and effectively create performance spaces for today.
We require each team member to bring a freshness and creativity to the project.  Our process is one in which each team member works iteratively with other team members—designers, builders, performers, producers, presenters, listeners—to uncover new directions that will define ConstellationCenter as the premiere destination for artists and audiences.
If you would like to be part of this unique process, e-mail us your ideas at development@constellationcenter.org.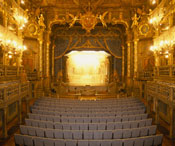 Markgräfliches Opernhaus,
Bayreuth, Germany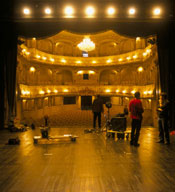 Members of the CC team
at the Rokokotheater,
Schwetzingen, Germany