PROJECT DESCRIPTION
ConstellationCenter will be one of the world's finest performing arts centers.  This Center will enable optimal presentation of a wide range of performance events.  Musical performances will range from classical music (from early music to new music), classic pipe and theater organ, to folk music, world music, gospel, and jazz; from Baroque opera to American musical theater to contemporary opera.  Other work spans Shakespeare to experimental theater; ballet, ballroom, to contemporary dance; silent and classic film to digital art; and the masterpieces of many cultures such as Japanese Gagaku and Byzantine Chant. 
ConstellationCenter will be home for more than 500 small to mid-sized cultural organizations seeking performance spaces—an institution created for, and managed with, the Greater Boston performing arts community—as well as a venue for events of international prominence.
The facility will contain five halls within one building, each hall designed to serve several different kinds of performances in a compatible way.  For instance, the hall called the Odeon will be Boston's only purpose-built opera house, and will transform into a concert hall, folk or jazz space, and wide screen cinema.  The Great Hall will support over 40 different performance layouts, offering presenters and producers unprecedented options to optimize the connection with their audiences.
Research is at the core of the project; accordingly, ConstellationCenter has conducted an extraordinary amount of research to date.  Since 2000, the ConstellationCenter team has traveled around the globe to study the acoustics and architecture of over 800 historically significant sites.  Recognizing the importance of creating a more intimate performance experience, we focused our studies on 100 of the best mid-size performance spaces.  These exquisite rooms saw performances by masters such as Beethoven, Mozart, Haydn, Palestrina, Schönberg, and Bach. 
Our methodical research has led to numerous discoveries about the acoustical effects of materials, room shapes, finishes, decorations, and other building elements.  These findings have informed our planning process, leading to an optimal acoustic design for each of our five halls.  The primary purpose of this research is to create a flexible facility with superb features that will inspire performers and give audiences experiences of unsurpassed power and immediacy; such experiences will provide a lifetime of rich and joyful experiences for both performers and audiences.
Detail of early acoustical
model of Odeon
Detail of nesting studies
model of ConstellationCenter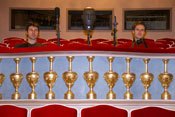 Members of the ConstellationCenter
acoustic research team
Detail of organ at Dom St. Marien,
Freiberg, Germany