Introduction | The Great Hall | Odeon | Jewel Box | Music Salon
FOUR HALLS
ConstellationCenter will contain four halls within one building, each hall designed to serve several different kinds of performances in a compatible way.
The Great Hall is the largest of the four halls and provides performance layouts for large-ensemble music, Hollywood Golden Age film, gala banquets and balls, important speaking engagements, international conferences, and personal celebrations. It will seat approximately 1000.
Seating up to 750, The Odeon, will be the only fully-functioning Baroque opera house in North America, and the first built anywhere in well over a century. The Odeon serves as an opera house and a playhouse, a symphony hall, a wide screen cinema, as well as a venue for jazz, folk, world music and new music.
The Jewel Box, with a seating capacity of 250, offers the intimacy of a small screening room and is a perfect space for small ensemble music, spoken word, comedy, experimental theater, independent film, lectures, business functions and receptions.
The smallest of the four halls, The Music Salon, provides an intimate space suited to chamber music, small ensemble music, art-house and independent film, cyber and digital arts and visual art exhibits. The room will also accommodate educational seminars, lectures, classes, presentations, banquets and private parties for 100 seats.
Interior shot of
Katholische Hofkirche,
Dresden, Germany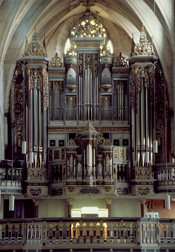 Organ detail at
Predigerkirche,
Erfurt, Germany
Detail of Rokokotheater,
Schwetzingen, Germany