HISTORY OF THE PROJECT
President and Founder of ConstellationCenter, Glenn A. KnicKrehm initiated this project as a vision for a most distinctive and innovative performance space serving the Greater Boston Area.  The idea developed as KnicKrehm revisited the classic movie theaters of his hometown, Los Angeles.  He longed to recreate and possibly supersede these superb experiences by constructing a similar theater in the Boston area.

KnicKrehm started by conducting extensive market research to confirm that Boston sustained an audience eager for a cinema space of this nature.  A survey of over 2,600 patrons showed that what Boston audiences and performers yearned for was not limited solely to movie houses, but performance spaces extending to opera, dance, theater, music, and experimental art.  The survey confirmed that although the Boston arts scene is thriving, many of the 500 plus groups in the area are unable to secure for themselves suitable performance spaces.  Therefore, what began as a single movie house developed into five halls housed within one unifying building, each hall designed to serve a series of compatible performance types.

A unique feature of the Center is its strategic and profitable business plan.  As a patron of the arts himself, KnicKrehm was always struck by how little most performance spaces were employed.  So he created a model in which the spaces would be utilized twenty-four hours a day, executing various programs simultaneously, and generating income for the Center.  These revenues could be used to support the arts organizations that would use the Center and to continue the research into the art of performance.
One of Constellation Center's primary goals is to create an extraordinary acoustical environment for experiencing more powerful performances.  In pursuit of this objective, a team from Arup Acoustics conducted in-depth research that established the relationship between great performances and their architectural settings.  The Constellation project team began to test preeminent concert halls and music rooms throughout Europe.  In 2001 site testing was done in Eisenstadt, Fertőd, Vienna, Salzburg, The Netherlands, England, and Rome.  Since then ConstellationCenter's project team has visited over 800 historic performance spaces in Europe and North America and conducted comprehensive testing and analysis in more than one hundred.  These studies have provided valuable information about performance layouts and stage machinery for orchestral and chamber ensembles, opera and live theater as well as classical theater and pipe organ music.  These renderings have also provided the Center's designers and engineers with the material needed to start preparing the physical specifications for ConstellationCenter.
With a team of experts in place, as well as generous donors, advisors and volunteers, ConstellationCenter is becoming a reality.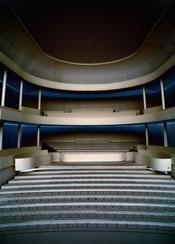 Detail of acoustical model
of Odeon
Detail of acoustical model
of Great Hall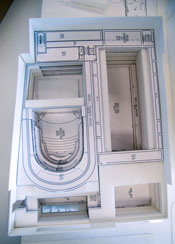 Detail of early site model
of ConstellationCenter