UNIQUE FEATURES
What makes ConstellationCenter a worthwhile addition to the arts community?  ConstellationCenter sets itself apart from other theaters by providing a variety of performance spaces under one roof, each with unique features not available in other performance venues.
Magnificent Sound Quality
From about 1000 to 1900, European composers, performers, and their patrons collaborated on developing a sound quality in a performance that places the audience in a 3-D enveloping field giving the audience the ability to connect emotionally with the performers.  To achieve this aim, they gradually created a series of archetypal room shapes, dimensions, materials, and surface textures.  Few, if any, performance venues have used this body of knowledge in over one hundred years.  ConstellationCenter uses these archetypes to create a range of sound varieties not normally available to audiences.
A Unique Experience for Performers and Audiences
Performance quality depends on many intangible, even delicate things.  ConstellationCenter provides amenities that help artists achieve their highest level.  These amenities include superior acoustics, a comfortable back-of-house environment, and versatile stage designs.  Performers often say they feel that just getting through a performance is good enough; at ConstellationCenter, we aim to trigger the desire to excel. 
And for the audience, ConstellationCenter provides a full, comprehensive performance experience that includes beautiful lighting, good air quality, comfortable seating, and an inviting ambiance.   Overall, ConstellationCenter will enhance all participants' experiences, facilitating exchange and communication among audience members and between audience and artists. 

Spectacular Stage Scenery and Scene Changes
From 1600 to 1900, a scenic system prevailed for opera, theater, dance, and music concerts.  The speed and intricacy of scenes and scene changes yielded spectacular effects.  ConstellationCenter has updated this system providing tremendous assets for modern stage aesthetics.  
Analogue/Digital Performance Platform
ConstellationCenter's first-of-a-kind analogue/digital performance capabilities lead the world in the ability to enhance, edit, preserve, and distribute performances.  This platform will allow performance involving video and pre-originated components.  As a result, performers may present a mix of material from multiple locations, live material in one hall and simultaneous showing of that material, edited or not, in other ConstellationCenter halls. 
Best-in-Class Musical Instruments
In-house pianos, harpsichords, and other apparatus will support musicians for their performances. 
ConstellationCenter also features two world-class organs.  One of the organs is the only authentically reproduced Bach organ outside Eastern Europe.  Built specifically for ConstellationCenter by Taylor and Boody Organbuilders and paid for by the generous support of the Ellis L. Phillips Foundation, the organ construction is based on one of the remaining Hildebrandt organs located in Naumburg, Germany. 
The celebrated Paradise/Brown theater organ built in 1928, one of only three five-manual theater organs made in the movie palace era, is arguably the finest surviving example of the instrument used to accompany the classic "silent" movies.  With the organ's signature ability to simulate many orchestral sounds and sound effects, films of the "silver screen" come alive in the mode first intended for their viewing.  

Staging for Over Fifty Performance Modes
Most performance spaces support a single fixed stage at the front of a hall, with fixed audience areas.  Most music written in Europe or elsewhere never envisioned such a static arrangement.  ConstellationCenter supports over fifty variations of performance platforms and audience seating.  Performers can be at the end, middle, or side of our halls.  In the Great Hall, for instance, they can be on the main floor, two balcony levels, or in the ceiling.  Performers can be distributed in multiple floor locations.  Various visual and acoustical adjustments are available.  Nowhere else is available such a complete range of historical to avant-garde performance arrangements.
Best-in-Class Film Presentation
ConstellationCenter has reengineered all the systems for movie image, sound quality, and audience/screen relationship.  Simply put, this will be the best movie house in the world.
Substantial Assistance to Emerging Artists
ConstellationCenter provides a unique set of production features to broaden artists' visions and help secure their financial stability.  A graduated range of halls can grow with expanding and unpredictable audiences.  Flexible seating and performance platform arrangements sustain most any artistic vision.  Audience growth is assisted through a unique package of audience-friendly amenities such as parking, public transport access, restaurants, ticketing assistance, and enhanced communication support.
A New Business Model
A newly conceived but extensively researched business model for ConstellationCenter offers increased financial stability for users of the Center, as well as an annual operating surplus for the Center itself.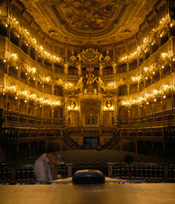 View from stage of
Markgräfliches Opernhaus,
Bayreuth, Germany
Performance shot from
BEMF's 2007 production of
Lully's Psyché
(A. Costantini)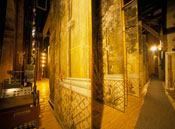 Detail of shutter and groove system
at Drottningholm, Sweden
Detail of Georgenkirche organ,
Rötha, Germany
Detail of organ pipes of
Paradise/Brown theater organ
Detail of Paradise/Brown
theater organ destined for
ConstellationCenter's Great Hall