WHY BUILD?
"Constellation Center will accomplish something previously unheard-of in the performing arts world…it will provide an ideal space for the presentation of almost every indoor performance genre from almost every age - ranging from the earliest liturgical music to today's avant-garde performance art."
- Glenn A. KnicKrehm, President
The ConstellationCenter project began as a quest to create new performance spaces for the Greater Boston area.  Initially, the idea was to recreate, perhaps even surpass, the breathtaking audiovisual experience of classic movie theaters.  As the work moved ahead, however, a much greater opportunity emerged.
The feasibility research done by the Center proved to the team that Boston audiences found existing movie houses and other performance arts venues inadequate.  Audiences wanted, and often were not getting, high-quality architecture, clear and vibrant acoustics, unobstructed sight lines, comfortable seats, helpful staff, pristine restrooms, and available parking close by.
The studies also revealed that Boston has more than 500 performing arts organizations that are essentially homeless.  The region's premier large houses are difficult to book, too expensive to rent, or simply have too many seats for these groups to fill, and most of the available smaller spaces lack the performance qualities and/or physical amenities that artists and audiences desire.
To address these problems, the Center's project team developed a plan to build five stellar performance halls of different sizes and characteristics under one roof.  These halls will provide ideal conditions for a wide variety of first-class performances, ranging from early to contemporary music, from Baroque opera to experimental theater, and from silent film to digital art.  The five halls will combine the latest technology with the comfort and ambiance of a fine European theater.  The goal is to make every experience visually and aurally rewarding and as physically comfortable for the audience as possible.  At the same time, performers will have access to a facility that highlights their talents and inspires their artistry.
Performance shot from
BEMF's 2007 production of
Lully's Psyché
(A. Costantini)
Susan Marshall & Company,
presented by CRASHarts
(G. Hansen)
Ballet Rox.
Photo by: Maxwell Mckenzie.
Choreography by Tony Williams.
Costume by Rebecca Cross.
Acoustic Testing Set-up from stage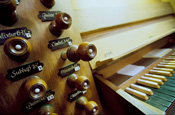 Detail of organ at Stiftskirche,
Wechselburg, Germany