ConstellationCenter's temporary public art installation is located on our future site at Kendall and Athenaeum Streets in Cambridge.
The following works by New England artists are for display:
Pablo Eduardo: Las Furias
Ross Miller: Foreshadowing Light
Stephan Moore: Station
Tim Murdoch: Emergence
Gary Orlinsky: Proscenium
John Tagiuri: Reclining Nudes 1-6
---
Meet the Artists:
Artist Statement
Las Furias, composed of steel and wood and standing at 21 feet, honors the relationship between music and art and pays homage to the power that music has to transform. This sculpture was inspired by the objectives of the future site of Constellation Center. The simple silhouettes recount the myth of Orpheus, while the haunting, abstract sounds of the bells invite the viewer to a representation of when the Furies wept for the first time.
Biography
Pablo Eduardo is a Bolivian-born sculptor. His distinctive sculpting style, termed "neo-Baroque" is a bridge between contemporary realism and mystical awareness. Building on the cornerstone of contemporary art and magical realism, his sculptures capture a vignette of artistic metamorphosis and celebrate the tensions continually at play between the physical and the spiritual worlds.
Over the past 20 years, sculptor Pablo Eduardo has been constantly contributing to contemporary public works for both temporary and permanent installations. Eduardo has collaborated with numerous cities, educational institutions, and private benefactors to produce and install large-scale sculptures. He takes great pride in the fact that each project's completion was the result of a community endeavor, not just an individual effort, which is reflective of his larger philosophy on the role of an artist as an interpreter.
---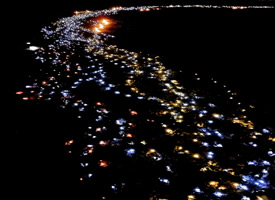 Ross Miller, Foreshadowing Light
Artist Statement
An installation of lamps and strobes emerge from the site's raw gravel bed. Light hints at a time ahead on the Constellation Center lot - theatrical moments, sparkle of a marquee, footlights, potential. Warm incandescent glow, cool pinpoints of LED light and random strobe bursts anticipate people at the balcony edge of a future concert hall. Light arouses curiosity and engages the site at the arrival of dusk. Light beckons the viewer during our dark cold winter months. Foreshadowing Light project installation collaborator is artist Timothy Kadish.
Biography
Ross Miller is a visual artist whose work integrates art into the public landscape. In site based projects he seeks to encourage community conversation in outdoor spaces, and create places for private reflection within public environments.
Rather than imposing a specific medium or content on a site, the ideas evolve through examination of a site's ecological and social history, patterns of pedestrian activity, quality of light, and proposed future uses to create public artwork that makes direct connection with the site, heightening one's experience of being in that specific place.
Sited in publicly accessible locations - urban squares and parks, schools, subway tunnels, along highways and over city streets - these projects evolve through collaboration with residents, school and community groups, urban planners, landscape architects and other artists. The work ranges from urban and architectural scale installations to subtile and intimate pedestrian scale sculpture.
www.rossmiller.com
---
Artist Statement
A voice emanates from a rotating acoustic megaphone, reflecting off of the surrounding buildings and engaging passers-by. The presence of the voice enacts a "sounding" of the future ConstellationCenter's neighborhood, caressing with the barest tangibility the perimeter of its site, and portraying both the gregariousness of its promised presence with the ephemerality of its current absence. The text of the sentence was composed by writer and playwright Chance Muehleck, with the voice recorded by actress Robin Kurtz, both members of The Nerve Tank theater collective.
Biography
Stephan Moore is a composer, improviser, audio artist, sound designer, teacher, and curator based in Brooklyn and Providence. His creative work currently manifests as electronic studio compositions, solo and group improvisations, sound installation works, scores for collaborative performance pieces, and sound designs for unusual circumstances. He also performs with the improvisation groups Evidence, Bumpr, and Volume(n), and is the resident sound artist for the performance groups The Nerve Tank and a canary torsi. His company, Isobel Audio, produces unique Hemisphere speakers for electronic music and sound design. He worked for six years with the Merce Cunningham Dance Company, serving as a touring musician, sound engineer, and music coordinator.
---
Artist Statement
Emergence represents the burgeoning of growth expected on the future site of the ConstellationCenter. The forms, with their turning and winding shapes, are much like that of a dancer in motion or a plant seeking the sun for nourishment. It is a work composed of polyethylene tube sections that have been hand cut, welded together, and carved to form long, vine-like sculptures that punctuate the site. It is the artist's intention to bring to life what lies below the surface, the potential and excitement of a growing idea.
Biography
Tim Murdoch is an artist whose works range from monumental hand-carved wood and plastic sculpture to kinetic installation. He graduated from Montserrat College of Art in 1989 and received his MFA from Massachusetts College of Art and Design in 2003. His work has been shown at galleries and alternative spaces in Boston, New York and in Europe. Murdoch has received a Visual Arts Sea Grant from the University of Rhode Island, a Floating Art Grant from the Fort Point Artists Community, a Blanche Colman Award, and in 2011 was a Massachusetts Cultural Council Fellowship finalist. His public art commissions include two for the Massachusetts College of Art and Design: a 24 ft. hand-carved plastic hanging sculptural installation for the college's new campus center, and a 25 ft. kinetic wall piece for the Spoon Cafe in the college's new dormitory.
---
Artist Statement
For the future site of the Constellation Center I am building an installation that pays homage to the mission of the site. Proscenium is a dramatic stage-like structure that emphasizes the illusion of deep space. The sides and tops of the structure are an open form, causing there to be a continually changing pattern of light and shadow. The piece is not only referential to the future function of the Center, it also references the earliest architectures of places like Stonehenge or the Parthenon in the basic post and lintel construction.
Biography
Gary Orlinsky is a sculptor who lives and works in Leverett, Massachusetts. He is a well-known public artist, whose site-specific installations have been shown in museums, parks and gardens throughout the United States—such as the Berkshire Museum, Acton Arboretum, Boston Children's Museum, the Atrium at Dartmouth College, the Evanston Art Center near Chicago, and Forest Hills Cemetery in Boston. During the off-season he works on smaller scale assemblages and private commissions. He has led workshops at the Chautauqua Institute, for American University in Corciano, Italy, , the Smith College Museum of Art, and other sites and institutions. He currently teaches sculpture at Assumption College in Worcester and in the Commonwealth College Honor's Program at the University of Massachusetts, Amherst.
---
John Tagiuri, Reclining Nudes 1-6
Artist Statement
Reclining Nudes 1-6 is an 8 foot high by one hundred and sixty foot long art installation inspired by the rich variation of musical instruments' "f" hole shapes through western history. These sound holes are of a scale that activates the site and it is my intension that they will mitigate the starkness of the chain link by making it lively and upbeat!
Biography
John Tagiuri studied the soprano and alto recorders, the oboe, the bassoon and very briefly, the violin. He chose sculpture! He currently lives in a household with a violinist and a cellist and has subscribed to the BSO for much of his adult life.
Tagiuri has been creating community-focused Public Art in and around the city of Boston for over twenty years. His sculptures and installations have helped rejuvenate a large number of inner city parks, schoolyards and community centers. He has specialized in major temporary works as well as gateways, fences, outdoor classrooms and public seating. Tagiuri's projects explore social and environmental issues; they are thought provoking and engaging to people of all ages and backgrounds. Much of his work has been produced in collaboration with inner city youth and community groups. Tagiuri's projects can be seen in downtown Boston, East Boston, Boston's South End, Dorchester, Roxbury, Brighton, South Boston, Roslindale, Jamaica Plain, Somerville, Cambridge, Newton and Gloucester Mass.