ConstellationCenter's Public Art Installation
INTRODUCTION
ConstellationCenter has hosted a temporary public art installation for the past several years on our future site at Kendall and Athenaeum Streets in Cambridge.
The following works by New England artists have been displayed:
Ross Miller: Foreshadowing Light
Tim Murdoch: Emergence
Gary Orlinsky: Proscenium
John Tagiuri: Reclining Nudes 1-6
Anne Alexander: Sprouting Growth
 Lisa Greenfield: House of Cards
Ann Jon: Arch III
Andy Moerlein: Finding Fault
Rachel Newsam and Vaclav Sipla: Sine
Obie Simonis: Heaven and Earth
Carolina Aragón: Ether
SIPLA + NEWSAM Studio: Score
Jeanne Williamson: Fence/Curtain 1.0
Meet the Current Artist:
Artist Statement
Las Furias, composed of steel and wood and standing at 21 feet, honors the relationship between music and art and pays homage to the power that music has to transform. This sculpture was inspired by the objectives of the future site of Constellation Center. The simple silhouettes recount the myth of Orpheus, while the haunting, abstract sounds of the bells invite the viewer to a representation of when the Furies wept for the first time.
Biography
Pablo Eduardo is a Bolivian-born sculptor. His distinctive sculpting style, termed "neo-Baroque" is a bridge between contemporary realism and mystical awareness. Building on the cornerstone of contemporary art and magical realism, his sculptures capture a vignette of artistic metamorphosis and celebrate the tensions continually at play between the physical and the spiritual worlds.
Over the past 20 years, sculptor Pablo Eduardo has been constantly contributing to contemporary public works for both temporary and permanent installations. Eduardo has collaborated with numerous cities, educational institutions, and private benefactors to produce and install large-scale sculptures. He takes great pride in the fact that each project's completion was the result of a community endeavor, not just an individual effort, which is reflective of his larger philosophy on the role of an artist as an interpreter.
Foreshadowing Light
Ross Miller
Emergence
Tim Murdoch
Proscenium
Gary Orlinsky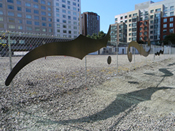 Reclining Nudes
John Tagiuri
Sprouting Growth
Anne Alexander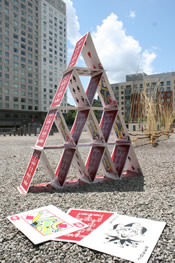 House of Cards
Lisa Greenfield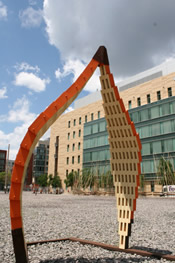 Arch III
Ann Jon
Finding Fault
Andy Moerlein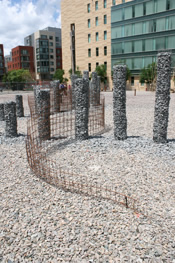 Sine
Rachel Newsam and Vaclav Sipla
Heaven and Earth
Obie Simonis
Ether
Carolina Aragón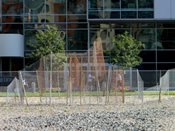 Score
SIPLA + NEWSAM Studio
Fence/Curtain 1.0
Jeanne Williamson

43 Thorndike Street
Suite 301
Cambridge, MA
02141
Tel 617.939.1900 Fax 617.939.0190